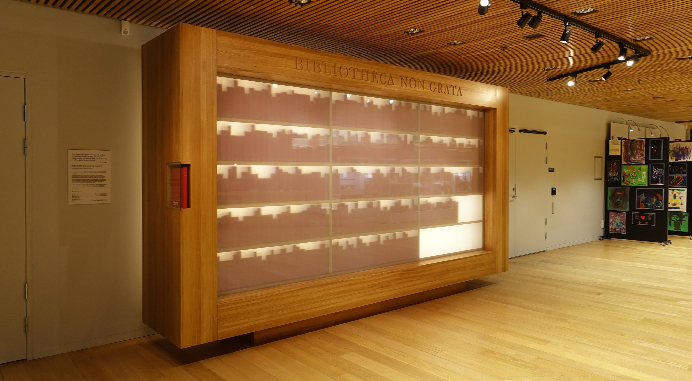 Bibliotheca Non Grata is a public art project by artist Måns Wrange and architect Igor Isaksson, commissioned by the city of Umeå in Sweden, in memory of journalist, activist and author, Stieg Larsson's work for democracy and free speech as well as against discrimination and racism.

In the project established and unestablished authors from across the world where invited to contribute to the art project Bibliotheca Non Grata — an imaginary library of rejected and thus non-existent literature — by submitting titles of their own literary works that have been rejected by a publishing house or an institution and thus have not been published.
In the project, the perspective is shifted from the literature that has been published and included in public libraries and thus constitutes society's official self-image, to the literary works which for various reasons have been rejected throughout history and thus do not exist in the public eye. What kind of stories, experiences and ideas never found their way to readers and  public consciousness? And the other way around: How would history be different if some of the world's most influential books never would have been published?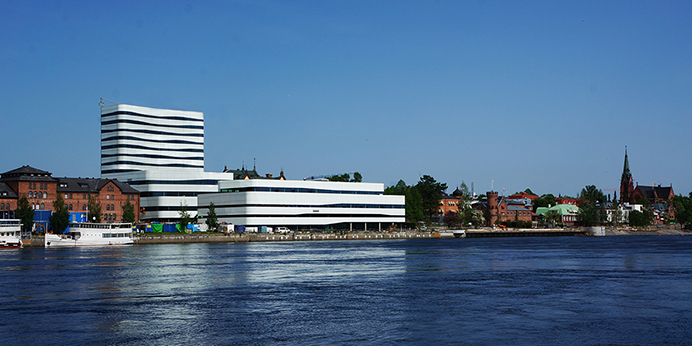 The work Bibliotheca Non Grata is placed in Umeå city library in the newly constructed and the Kasper Salin architecture prize awarded cultural centre Väven ("The Weave") in Umeå, which was designed by the internationally acclaimed architect's offices Snøhetta and White (Photo above: Tove Skotare).
The artwork consist of a large custom built bookshelf in oak where each submitted title of a rejected book manuscript is represented in the artwork as an empty hardbound book with the title printed on the spine of the book.
When visitors approach the artwork, hundreds of dark outlines of something hidden behind frosted glass can be glimpsed.
When visitors are about 1 metre away from Bibliotheca Non Grata, the glass section transitions from frosted to clear, so that what was previously hidden behind the glass now appears as hardbound books with titles of rejected works printed on the spines.
For a fleeting moment, the titles on the spines can be read until the glass turns frosted and the content of  Bibliotheca Non Grata becomes once again inaccessible.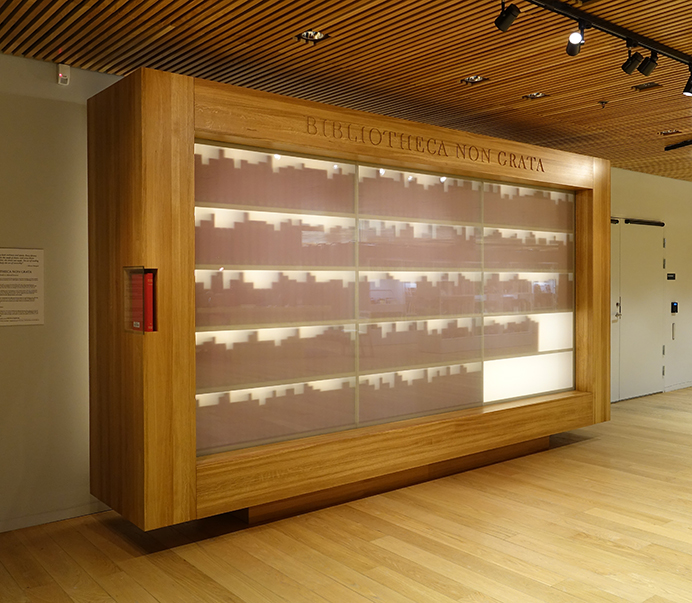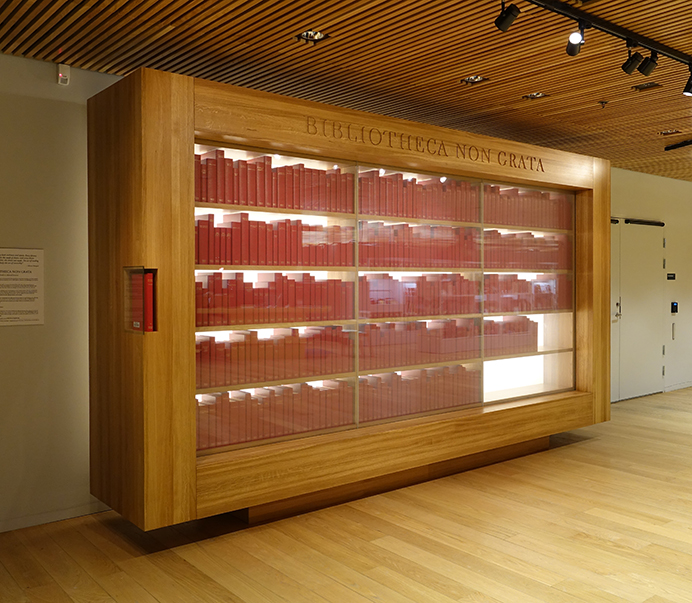 The titles of rejected book manuscripts will be catalogued in a hardbound catalogue, which will be available to borrow in the same way as Umeå library's other book stock available to the public. Bibliotheca Non Grata will also be included in Umeå city library's web-based catalogue and online on www.bibliothecanongrata.org.
Carpenter: Mikael Cedervall
Lighting: Jimmy Ström
Programming: Joakim & Tobias Jaeger
Bookbinding: Barry Lewis, BTJ Sverige AB