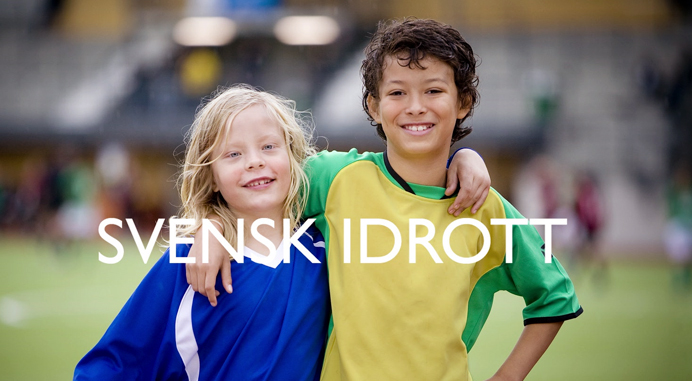 Copy texts for four TV spots/inspirational films we made for The Swedish Sport Confederation. Part of a campaign to promote the values of Swedish sport. Three of the films where screened as commercials on Swedish TV 4.
.
Concept, Copy and direction by Igor Isaksson
Main Photo by Lennart Ström
Editing by Ilkka and Igor Isaksson
Make up by Gunilla Pettersson
Styling by Ulrika Wedin
Music by Klas Ehnemark
Voice Over by John-Erik Leth
.
Film 1: Vocals by Paola Bruna
Film 2: Photos by Lennart Ström, Hjärtlabb SÖS, Bildbyrån.se, Lars-Rune Ölund, Antoinette Mc Intyre-Andersson, Ulf Sundell, Istvan Molnar
Film 4: Photos by Bildbyrån.se
.
Film 1 – Allas rätt att delta / Everybody has a right to participate
.
Att vara modern är att röra sig. Med eller mot strömmen. Bara man rör sig. Tänker modernt.
Tänker man modernt så förstår man att alla måste få vara med. Du. Just du. Och just jag.
En del vill inte vara med säger de. De tror jag inte på.
Att röra sig är modernt. Så har det alltid varit.
.
.
Film 2 – Rent spel / Fair Play
.
En del försöker luras. Men det vinner de ingenting på. Det har jag sett till.
Och jag.
Du har kanske träffat mig. Och oss. Nån gång. Nånstans. Om du tänker efter.
Eller snarare när du tänker efter. -så träffar du mig.
Det här är min bästa kompis.
Han, eller snarare Hon, jag vet inte så noga, har lärt mig en massa. T ex att alla vinner på rent spel. Till och med dom som förlorar.
.
.
Film 3 – Demokrati och delaktighet / Democracy and participation
.
Man är aldrig ensam i skogen. Även om man vill vara det. Det blir ju lättare då. Om man är ensam. Kan man tycka.
Då kan man bestämma själv vart man vill gå.
Men om man är alldeles ensam i skogen – vart är man då på väg?
Som tur är så är man aldrig ensam i skogen. Som tur är så får du vara med och bestämma. Demokrati heter det. Det är marken under våra fötter.
Ibland ser man inte skogen för alla trän.
.
.
.

Film 4
.
Det här handlar om idrott, och om att alla som rör sig är på väg nånstans.
Mot egna mål. Efter ett guld, ett sammanhang eller kanske bara ett par tappade kilon.
– eller om det nu bara är själva stegets glädje som lockar.
Man vill uppnå förändring. Bli bättre, må bättre, göra saker bättre.
Göra idrotten bättre.
Ibland kan målet kännas så avlägset att orken försvinner. Vägen tycks lång.
Nu behöver det inte vara så. För egentligen behöver man inte gå så långt om man vill skapa en förändring
– eller rättare sagt – Du behöver inte gå så långt om du vill vara med och skapa förändring – för dig, eller den svenska idrotten
– för det är du som är idrotten.
Jag också för den delen.
Vi ses.